Please take a moment and bookmark this page. This factory direct page will be your best deal on any new, full US warranty, Brickwall Product. International customers may wish to use our EBAY STORE to take advantage of the convenient and economical international shipping Ebay offers CLICK HERE.
If you like us please share with your friends
Industrial Products
Item # PWP20, 20 amp Panel Mount Unit (requires 20 amp line & 20 amp outlet)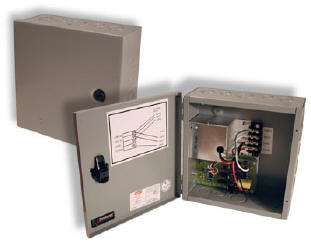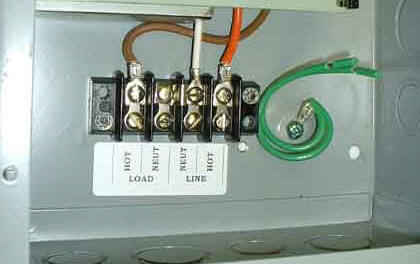 This version of the Brick Wall line of surge suppressor/line filters is a panel-mounted, 20amp unit. Allowing protection for an entire 20amp circuit, this unit's applications range from fire alarm and security system sub-panels to dedicated computer room circuits.
Made in the USA

Connections: (4) #8, 30amp barrier strip; Ground, Neutral, Line, Load

Self-test circuit w/ visual indicator

0.08" thick aluminum heat diffuser chassi

Specifications
Outlets Available
None, this unit has a terminal strip for connection.

Load Ratings

20A at 120 volts, single phase, 50-60 Hz; full load regulation 1%.

Endurance Test

1,000 surges, 3,000 amperes, 6,000 volts, SVR=330, actual Suppressed Voltage <280 Volts, no failures, L-N (ground wire protection) mode, U.S. Gov't. Mode 1)

Limiters

Series surge reactor current limiter; cascaded, auto-tracking dual polarity voltage limiters; dual pulse inverters. Parameters optimized for switch-mode power supply protection.

Clamping Voltage Onset
172 volts nominal; 2 volts above peak line voltage (auto-tracking).

EMI/RFI Filter Response
(bi-directional, wave tracking): With 50 ohm Rg load: 3db at 5kHz; 26dB at 100kHz; 38dB at 300kHz.

Let-Through Slew Rate

5,000 volt/microsecond disturbance reduced to 28v/microsecond within AC power wave envelope, and less than 10v/microsecond outside the power wave envelope.

Maximum Applied Surge Pulse Joule Rating

Unlimited rating (due to surge current limiting) (8x20microsecond).

Maximum Applied Surge Pulse Voltage

6,000 volts (1.2 x 50 microseconds) (Industry Standard rating).

Maximum Applied Surge Pulse Current
>100,000 amperes (unlimited due to current limiting) (8 x 20 microseconds).

Endurance, C62.41-1991 (formerly IEEE 587) Category B3 (C1) pulses

2kv>100,000; 4kv>10,000; 6kv>1,000 (NRTL verified).

Dimensions
10" H x 10" W x 4" D

Weight

10.6 lbs.
PWP20
Brick Wall PWP20 20A Panel unit Surge protector. This unit does not have outlets and requires installation by a licensed electrician.

Note that these are mostly built to order and will usually take several days


SALE

$359
Brickwall Surge Protectors have a 10 year parts & labor warranty and limited lifetime warranty (after ten years lifetime referb at 20% of original retail cost).
Jump back to picture menu at top of page
Shipping
Warranties

Questions

Shipping to US 48 states (usually about $12-$18) will show up in the Shopping cart before you have to type in your name and address information.

Need it faster than 3-5 day ground?
Call or email for a quote if time is of the essence or you want expedited shipping. Note that most units are usually in stock but sometimes must be built to order and that usually adds only 2 or 3 business days.

Shipping to Canada will generally be double what the shopping cart says.
Will confirm Canada shipping price with you by email before processing the charge or send you a Paypal invoice for the additonal shipping .

Shipping charges to Hawaii will be at least $75 and possibly much more. We had to discontinue ground shipments to Hawaii because the trucks kept sinking. Email nancy@sellcom.com for a shipping quote to Alaska or Hawaii.

For a shipping quote to other locations, send an email with your proposed order and postal code to: Support@sellcom.com

Covered by manufacturer's full 10 year US warranty.





Just call

800-SELLCOM
(800-735-5266)
This site is copyright © 1998-2017 SELLCOM Inc. with all rights reserved. SELLCOM is a registered service mark SM.
We strive to be diligent regarding all pricing and details. We are not responsible, however, for typos or other errors.
Any trademarks or servicemarks on this site are probably the property of their respective owners
1-800-SELLCOM 919-401-0067
Email support@sellcom.com
SELLCOM PRIVACY STATEMENT
As consistent with integrity and basic common decency, SELLCOM keeps customer information private except for those directly involved in shipping your product to you. We do NOT sell mailing lists, email addresses, FAX numbers, phone numbers or anything like that (and, quite frankly, we don't think very highly of those companies who do that sort of thing).
www.surgeprotect.com
Surge suppression and line filtering for critical non-fail protection and clean power. Whether you are looking for power surge protection, a surge protection device, transient voltage surge suppressor, transient voltage surge protection, power line conditioner, power and surge protection, voltage surge suppression, surge suppression products, transient voltage surge suppressors, surge suppression, power protection from surge, transient voltage suppressors, transient voltage suppressor, transient voltage suppression, spike protection, power line conditioners, the best power strip surge protection, transient voltage surge protector, transient voltage surge suppression, backup brownout power protection, transient voltage suppressor, power supply line conditioners, transient voltage protector, surge suppressors line conditioners, power protection line conditioner, or power strips surge protector the Brickwall is your best option.